Darvon - Dextropropoxyphene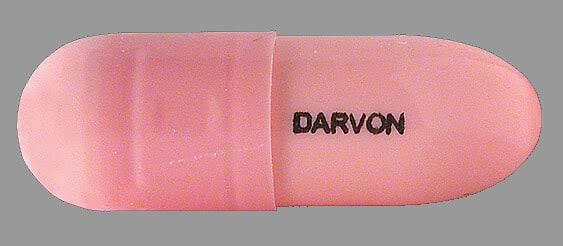 WHAT IS DARVON?

Darvon is one of the brand names for dextropropoxyphene. It's an opioid pain killer which used to be prescribed for mild to moderate pain. However, since 2010 it's been banned off the market in Europe, the US and Canada. Many other countries have banned it as well. Why? The reason is that propoxyphene can cause deadly overdoses as well as heart abnormalities that can lead to heart attacks.
Darvon, Darvocet, Di-Gesic are brand names under which dextropropoxyphene was sold. On the street it is known by "Dillies", "D" and "yellow footballs", "65's" or just "pinks".

HOW DO I FEEL ON DARVON?

Since Darvon is an opioid pain killer, it will act mostly as a depressant which also relieves pain. You'll experience the numbing "high" that one usually gets when taking a drug for pain. Pain relief, a buzzing "high" and emotional well-being are all effects of Darvon.

ARE THERE ANY SIDE EFFECTS TO TAKING DARVON?

Darvon has been banned off the pharmaceutical market since 2010. Doctors from the US, Canada, Europe and many more countries have stopped prescribing it for pain due to its health risks. Besides the deadly overdoses and heart problems it puts you at risk for, Darvon can also cause some common side effects such as drowsiness, sleepiness, sedation, dizziness, nausea and vomiting and feeling unable to coordinate properly.

IS DARVON ADDICTIVE?

All opiates are drugs with a high risk for dependence, and Darvon is no different. Long-term use, abuse or recreational use all make up a situation where you are at risk to become addicted to it. Once you start feeling like your regular dose doesn't cut it anymore, and you need more of it to get the same effects than you are tolerant to it. Tolerance causes dependence, and physical dependence leads to addiction which is both a physical and psychological attachment.
Withdrawal symptoms from Darvon can be quite bothersome as well as life-threatening. Stopping suddenly without medical supervision can lead to anxiety, depression, irritability, seizures and other uncomfortable, painful and even dangerous symptoms.

HOW CAN I STOP USING DARVON SAFELY?

You need to get in touch with an addiction professional. The best ones work for drug & alcohol rehabilitation clinics and center world-wide. They make up teams of doctors, psychiatrists, counsellors and alternative therapists that are specialized with years of experience in dealing with addictions and recovery. Inpatient and outpatient programs are your best chance at a drug-free and fulfilling life.
Through medical and psychiatric care and supervision, counselling, complementary therapies and group therapy you can safely and proudly recover from an addiction. You will understand the bases and roots of an addiction, how it works, why it's so hard to stop and coping mechanisms to deal not only with your cravings, but with the difficult emotions you find it hard to cope with.
Drug rehab centers offer detox at their own facilities or at a nearby hospital. Inpatient and outpatient programs are the two main treatment options when it comes to any type of addiction or alcohol problems. Inpatient programs offer residential treatment while outpatient programs offer care and support on a regular weekly basis through professional sessions.