Drug Rehab & Alcohol Detox Clinic in Marbella, Spain
Residential Addiction Treatment Marbella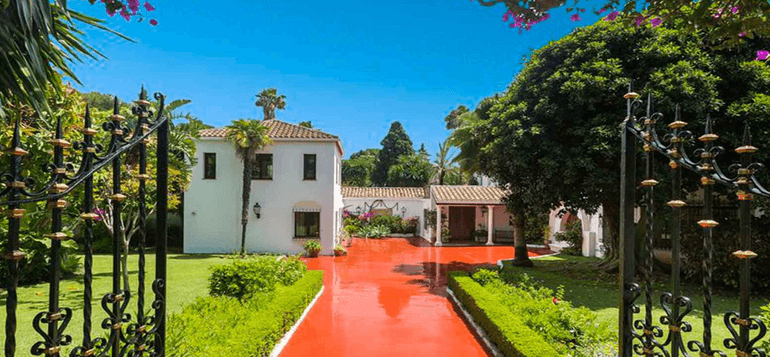 Marbella Addiction Treatment Hospital
€ Call For Prices
Luxury?

Yes

Licensed Hospital?

Yes

Location:

Seafront

Psychiatrist?

Yes

On-Site Gym?

Yes

Food Included?

Yes

Detox Clinic:

Yes
Year Established:

2010

Listing type:

Addiction Clinic

Parking:

Secure

Neighborhood:

Seaside

Laundry Included?

Yes

Yoga?

Yes

Keep Fit?

Yes
Residential Luxury Addiction Treatment Hospital near Marbella in Spain
The residential addiction hospital is an exclusive, luxurious highly competent facility and outpatient rehab program in one of the most beautiful places on Europe.
Marbella is a gorgeous town in the most southern region of Spain, Andalusia. It is also part of the famous Costa del Sol, a magnificent 'Sun Coast' popular for its cultural richness and thriving tourist attractions.
We are highly confident in our experienced, holistic and compassionate approach to treating addictions and mental illnesses . We do not only look at them from a medical and psychological point of view, but we try to see the problem as a whole. We look at all the causes that lead to the development of the disorder, as well as all the effects it has on the body, mind and all other areas of a person's life. We believe a fully immersed holistic approach is the best approach to a successful long-lasting recovery.
We have built an amazing team of English Speaking medical doctors, psychiatric, psychology experts, nurses and personnel that are trustworthy, empathic, compassionate and incredibly dedicated. We don't believe in hierarchies, we work as a network of professionals doing their individual part at the most top level in order for the network to function at its best. We believe each member of our team is just as important for a client's successful recovery, as the other one.
Our recovery approach is split into four parts, all part of a grander conscientiously thought out individual treatment plan. These four part approach is made out of: Detoxification, Rehabilitation, Independent Living and Aftercare. It's a professional approach that is meant to start from the lowest, most difficult stage and help the addict grow in a steady and natural pace until he is fully recovered.
Our clinic is a complex of buildings and gardens carefully built to create a home like environment that is not only comforting and healing but also luxuriously furnished and designed. Beautifully decorated rooms, green spacious gardens, large palm trees offer a splendid and attractive place we guarantee you will enjoy.
"I have never been in a place that was so tranquil and calm in my life. it was amazing."

Alan S - Came from London UK, to Marbella for Residential Alcohol Treatment
About Marbella

Marbella, Spain 1947... Prince Alfonso Von Hohenlohe buys a 180,000 square metre plot of land... Marbella, Spain 1954... Marbella Club opens...... Marbella, Spain 1970... Jose Banus opens his marina with a gathering...... A little known singer called Julio Iglesias performs... Amongst the guest list of 2000 acquaintances are a few of Jose's closest friends........ The Aga Khan, Onassis, Callas, King Fahd of Saudi Arabia and the modern Gatsby's of the disco age; Adnan Khashoggi, international arms dealer, arrives in a fleet of helicopters. Hugh Hefner flies in aboard his customised DC-9; painted black with bunny girls acting as cabin crew.....
Kings walked in this land with pet leopards at their sides on diamond studded leads...
...literally

History of Marbella
Just a little more 20 or so years ago, Marbella (pronounced disparagingly with an audible rather than silent 'l') was still synonymous - in England, at least - with the sun, sangria and sawn-off shotgun lifestyle of criminal expats who escaped British justice to the Costa del Crime.
Now, in the early 21st century, Marbella (correctly pronounced Mar-bay-ya) has become a hotter (in both senses), more hedonistic and, simultaneously, more laid-back Cote d'Azur for the modern celebrity.
This is Europe's summer chill-out lounge. It is about as far south as you can go in Europe (on a clear day you can see the Atlas Mountains of Morocco), and just as Miami is the city where Latin America meets North America, so Marbella has a beguiling polyglot culture.
It is a resort of choice of everyone from Saudi royals to soap and soccer stars. Even the more fun-loving British Royals pitch up - almost every year Prince Harry makes an appearance, and his aunt, the Duchess of York, is often seen a few miles down the coast in the polo playing resort of Sotogrande.
Pop culture's royal couple, Mr. & Mrs. Beckham, have also given Marbella their imprimatur: Britney Spears has been spotted here, as has Friends star David Schwimmer.
The chic nightclubs and boutiques (for all those little things you forgot to pack like Hermès beach towels and Cartier watches) swarm with the beautiful, famous and wealthy. Big-name music acts have played here and society silversmith Theo Fennell has put in an appearance to promote his wares (Theo is jeweler by appointment to Sir Elton John).
However, the above two paragraphs is how the place is now. a hang out for the "Hello" set. BUT....For about 20 years from the 1960s, Marbella was the jet-set resort, but its genesis lies in the first half of the last century... In 1946, Prince Maximilian von Hohenlohe, head of one of Europe's most distinguished families, was bored.
To relieve the tedium he decided to visit his eccentric cousin, Ricardo Soriano, who lived on the Mediterranean coast.
He fired up his Rolls-Royce Phantom, drove out of his draughty palace near Madrid and headed for a small seaside town called Marbella. Soprano was a Hemingway-esque figure: powerboat racer, artist, inventor and daredevil sportsman, he was also a compulsive womaniser and the secluded shores of the Mediterranean allowed him to enjoy a bohemian existence and indulge his peccadilloes without hindrance.
He fished, swam and chased women with considerable success, building up a library of intimate photographs of his conquests.
He delighted in regaling his friends with stories of his idyllic existence and was in effect the first promoter of Marbella as a smart hedonistic retreat from the cares of life, for which he received the honour of having Marbella's main street named after him.
Prince Max arrived to find that Soriano had gone fishing. He parked his car and ate a picnic in the sun-draped shade of a pine forest that ran to the edge of the sea. Eventually, when he met up with Soriano, his cousin pointed out that for the money it cost him to heat his cast palace near Madrid during the winter he could buy a house on the Mediterranean.
The following year he sent his son, Prince Alfonso, to purchase some land.
Alfonso bought 180,000 sqm of the very same land on which his father had picnicked the year before for 150,000 pesetas. In retrospect, this was probably the best real estate deal since the island of Manhattan was bought for a few shiny gewgaws, as this land would later become the Marbella Club.
Prince Alfonso was a precocious child. By the age of five he spoke four languages and mixed easily with the aristocracy of Spain, central Europe and the resort-hopping playboys who flitted between the casinos of Deauville, Monte Carlo and Biarritz.
He shot, skied, he played tennis and he charmed women. After traveling the world, he cast about for a suitable occupation and added two wings to an old farmhouse on his family's land to make a hotel. People said it would never work, after all one went to Deauville for the summer, not Marbella. He persisted and the Marbella Club welcomed its first guests in 1954 and soon became rather chic. The grand families of central Europe, including the Bismarcks and Metternichs, headed for Marbella, and it was then that Prince Alfonso's energetic socialising came into its own. He would later say, "The people I had met in Hollywood, in New York, in Europe; they were the roots, the bridge that brought people to Marbella... who made Marbella."
The early days of Marbella as a resort were indeed charmed. The Cold War and the Iron Curtain seemed very far away. Even the impending end of the world did not seem to matter. News of the Cuban Missile Crisis did not reach Marbella until it was over, as Rudi Schonberg, a former manager of the Marbella Club remembers; "The newspapers in Marbella did not arrive until days later and we had mostly foreigners here and the few Spanish didn't speak English. Everybody had the most gorgeous parties when the rest of the world was trembling that World War III was starting."
Moreover, Marbella was informal. Alfonso Hohenlohe speaks about the early years of Marbella. "In the beginning everybody arrived with a dinner jacket, but I said 'Stop! This is not the Marbella way! You only wear a dinner jacket on New Year's Eve,'" recalled Alfonso. "Another time, the Duke of Windsor came to the club. It was full of around 60 good friends, who I'd told I was giving a dinner for the Duke. Everybody dressed up in suits and ties looking like lawyers, but the Duke turned up in a red and white Hawaiian shirt. He said: 'Alfonso, I have to go back to the Bungalow.' So I took him back and he put on a dark blue suit. When we arrived back we noticed everybody had taken off their jackets and ties because they had seen the Duke of Windsor with a colorful Hawaiian shirt. We went down to the beach club and the Duke took off his tie and threw it into the pool and then took of his suit jacket to big applause."
Whether it was the Duke of Windsor casting off sartorial restraint or Maria Callas and Aristotle Onassis dropping by for some quiet time together, Marbella was where jet set and royalty could come to relax and unwind out of the public eye.
However, such seclusion could not last forever. By the latter half of the 1960s, Marbella was a fully accredited pit stop on the international circuit, which chimed perfectly with the hedonism of the swinging decade. Jean-Pierre Martel, now Marbella's leading interior designer, first visited the resort as a child in the 1950s, when there had been nothing between Marbella and the next town of San Pedro but olive groves and the Marbella Club. He returned in 1967 and remembers an enclave of sybaritic chic. "I stayed at La Fonda - it was the place to be at the time," remembers Martel. "There was Pepe Moreno, a nightclub that was very much like the chill-out lounge-style discotheques of today, but with a library, fireplace and an olive tree in the middle of the dance floor. There was Menchu's bar and Paolo Ghirelli had a little restaurant called Don Leone. I remember seeing Brian Jones, Carlos Santana, Jean Paul Belmorido, Christina Onassis and Pele.
Indeed, it was the heterogeneous nature of people who visited that made Marbella so exciting. It was the type of place where, at the same party, you could bump into musicians as diverse as Arthur Rubinstein (wearing a dinner jacket when most men wore shirts unbuttoned to the sternum), and Brian Jones of the Rolling Stones looking a little worse for wear with a mystery female companion. At one party, King Simeon of Bulgaria dressed up as Fidel Castro. He looked so convincing with the beard and military fatigues that his appearance gave quite a shock to the Batistas, who were sitting a few tables away."
The seventies and eighties were Marbella's golden years. The Marbella look was in vogue around the world, especially the kaftans designed by Yyes Saint Laurent's friend Tammy Tazi, who was in business with Prince Alfonso Hohenlohe's sister, the Duchess of Anon. Beautiful women would take their pet leopards for walks around Puerto Banus at night. The sound of helicopters overhead would be of that Gatsby of the disco age. Adnan Khashoggi ferrying guests from his yacht to lavish parties at his country estate, la Zagaleta. Mr Playboy himself, Hugh Hefner, gave the resort his approval, flying in on a customised DC9, painted black and with Bunny Girls acting as cabin crew. Formula One aces Jackie Stewart and James Hunt were also regular visitors and actor Sean Connery became a familiar Marbella face. Bridgette Bardot's ex-husband, Gunter Sachs, would stop by and Italian industrialist Gianni Agnelli flew in on his own aircraft to see a bullfight. And when David Niven needed a break from the rigours of life on the French Riviera he could be spotted here looking as dapper as ever.
Speak to us about
Rehab in Marbella

If you see a green border round the padlock it means your connection is encrypted, private and secure.
---
Local Rehabs has treatment available in English, Russian, German, Dutch, Swedish, Arabic and of course Spanish Speaking.
Private, Secure, Highly Ethical and Most Trusted in the whole of Spain. You can be sure of complete discretion.
---
There are no shared rooms and all of the rooms have en-suite bathrooms.

Some of the rooms are equipped with a kitchen and cooking equipment to support independent living if required.
Nanny rooms are available at an extra cost for overseas visitors normally from the UAE.
We can arrange a team of bodyguards if requested or can provide accommodation for your security team, but due to space limits we need to restrict your on-site private staff accommodation to max 8 people.