Residential Schizophrenia Treatment in Marbella, Spain
>

>

>

>

Residential Schizophrenia Hospital Marbella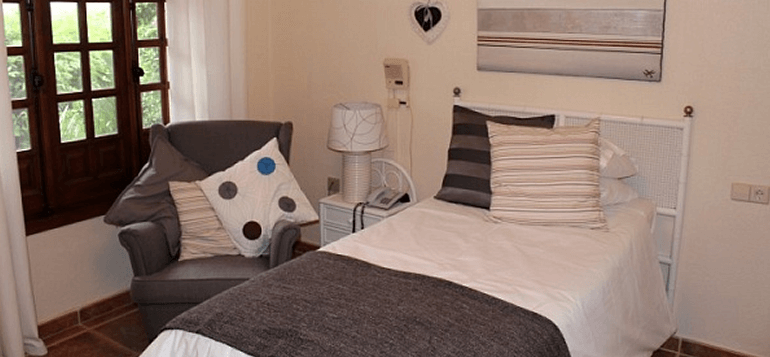 Marbella Schizophrenia Hospital
€ Call For Prices
Luxury?

Yes

Licensed Hospital?

Yes

Location:

Seaside

Psychiatrist:

Yes
Year Established:

2010

Listing type:

Schizophrenia

Parking:

Secure

Treat Dual-Disorder?:

Yes
Residential Luxury Schizophrenia Rehab in Marbella in Spain
Schizophrenia and other disorders that are to be considered psychotic or specific personality disorders are classified in one of four areas.
Disorganised Thinking

Hallucination
Delusions
Very Disorganised or Bad Motor Behavior

A delusion is one or more beliefs or ways of thinking that are not receptive to change even when there is overwhelming information or evidence to support that the original belief is wrong. This is not always Schizophrenia and can be one of many psychotic disorders.
A feeling of persecution is called Persecutory Delusion and is thoughts that a person is going to come to harm or be harassed. Of course there is a fight or flight in every person that can create this kind of awareness when something is wrong but to be a delusion it needs to be out of context and to the extreme.
So what has Schizophrenia got to do with addiction?
We find that many if nor all but a few people with alcohol or drug dependency have some kind of unresolved mental issue that should have been dealt with many years ago.
When we take away to self medication we start to uncover the unresolved problems so in a way we are the experts on Schizophrenia or other psychotic disorders because we get to experience treating them so much.
Some of the clues that a person has a psychotic disorder could be that they believe they have some kind of large amount of wealth, fame or extraordinarily ability.
In some cases a person will believe one or more people are in love with them or even obsessed with them but even when there is no signs of this they will still believe it.
A Nihilistic Delusion is when a person is overly negative to the extreme about local or world events and they are convinced without doubt that a major world event is going to happen such as an earthquake, flood or terrorist attack even when there is no indication of such a thing.
Somatic Delusions are the constant belief their a persons body is going to fail such as an organ is going to stop functioning or general other health focused obsessions regarding tumors and cancers.
These delusions are only classed as disorders when they strange and extreme because if a person has constant pain then it could be a sign something is wrong. If a person is otherwise healthy with no other signs of anything but they still obsess over organ failure then it is to be considered bizarre.
If there has been no rain for a long time and a person belies a flood is going to wipe out the world and they cannot be convinced otherwise, this will be considered bizarre.
Hallucinations are simulated but very real experiences in a persons mind that can happen with no reason or stimulation from the outside world.
A real and full on hallucination will be exactly like a real life experience and can be impossible for a person experiencing it to know it is not real and they never experienced it.
The hallucinations may be just visual or they may have sound or they can even have both.
A hallucination will typically be a sound or normally a voice that they know or even one they have never heard before. These voices are known to be separate from the persons own thoughts.
Ask us about Schizophrenia Treatment
in Marbella

, Spain

If you see a green border round the padlock it means your connection is encrypted, private and secure.
---
Local Rehabs has treatment available in English, Russian, German, Dutch, Swedish, Arabic and of course Spanish Speaking.
Private, Secure, Highly Ethical and Most Trusted in the whole of Spain. You can be sure of complete discretion.
---
There are no shared rooms and all of the rooms have en-suite bathrooms.

Some of the rooms are equipped with a kitchen and cooking equipment to support independent living if required.
Nanny rooms are available at an extra cost for overseas visitors normally from the UAE.
We can arrange a team of bodyguards if requested or can provide accommodation for your security team, but due to space limits we need to restrict your on-site private staff accommodation to max 8 people.