Residential Compulsive Overeating Treatment in Marbella, Spain
>

>

>

>

Residential Compulsive Overeating Hospital Marbella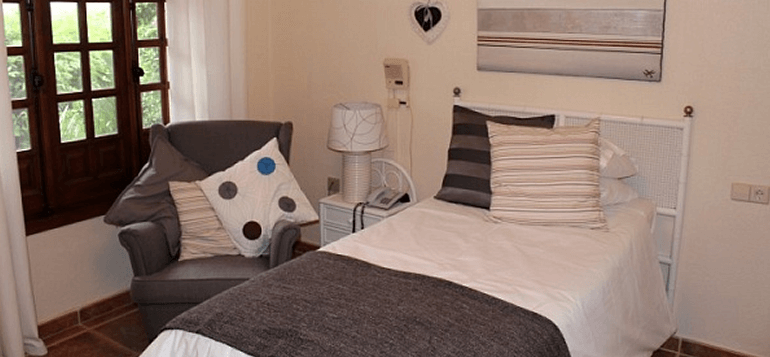 Marbella Compulsive Overeating Hospital
€ Call For Prices
Luxury?

Yes

Licensed Hospital?

Yes

Location:

Seafront

Bulimia Clinic:

Yes
Year Established:

2010

Listing type:

Compulsive Overeating Clinic

Parking:

Secure

Treat Anorexia?:

Yes
Residential Luxury Compulsive Overeating Rehab in Marbella, Spain
The large plates of food we give our children thinking we are doing the right thing is actuall causing long term problems.
At one point in the UK the government even did a tv campaign with a website to try and get people to feed their children less.
Food addiction and overeating is often down to the fact that when you eat a lot of food you want more.
It dosent take many small meals consistently to shrink a stomach and also on the flipside it dosent take many large meals to expand a stomach.
Lack of water can cause a feeling like hunger and rather than drinking to quench the dehydration people confuse the feeling and eat instead. The eating has lots of calories that the water aperson should be drinking just wont have.
Using large plates makes people fill their plate with more food and because we are taught when we are young not to waste food we finish every last bit on the plate.
This combination of dehydration, large plates and conditioning from a child is a terrible combination for serious chances of developing addictions.
From a patients point of view the best way to explain is to tell a story.
Here is story from one of our patients.
I believe my 12-year obsession with food began because of one innocent attempt at dieting. Given my personality, I tried to be the "perfect" dieter. And I was. I restricted my food intake so severely that at the age of 14, I became anorexic. This was 24 years ago, at that time, nobody knew what "anorexia" was. At 5'3", 85 pounds, I was slowly dying.
I was constantly weak, constantly cold, slept 12-14 hours a day had ceased menstuating, and was without enough energy to talk, laugh, or do school work. I knew I had to start eating again even though I still felt I wasn't "thin" enough. When I did, my cravings were uncontrollable. For the next 2 years I began to binge and purge. Sometimes I vomited small amounts of blood, and had unbearable stomach pain. I knew my life was in danger. I decided I wanted to live - even if I would have to live my life overweight, so I ceased purging.
For the next 10 years, I was a compulsive overeater. I gained 80 pounds. It was a long and lonely time. I never thought I would be thin again. I never thought I would be free of my obsession with food. Then, something happened that was nothing short of a miracle. I accidentally discovered a couple of simple behavioral changes that changed my life. Changes that I never would have guessed would set me free from my obsession with food. I began to lose weight. I began thinking about food less and less. I became a normal eater again.
For the past eleven years I have been thin and completely free of obsessive thoughts about food. During this time I have had many people ask me how I overcame the obsession, and how I have been able to eat anything I want and never gain weight.
The question I am asked most frequently is, "Can I really overcome my obsession with food, forever?" The answer is, ABSOLUTELY! You do not need superhuman willpower. You do not need years of therapy. Some people get stuck forever in searching for causes, in blaming their parents, and in overanalyzing their psyche, rather than attacking the problem in the present, and getting an immediate change in the behavior.
I am 5'3" and weigh 105-107 pounds. I eat whatever I want, whenever I want. I go to nice restaurants and enjoy the food without stressing about what I "can" eat or what I "should" order. I have ice cream parties with my kids and dig in just like they do. My mind is free. I can focus on thoughts about my life, without obsessing about my weight or the food I am going to eat. This can be you!
I promise that you can be changed forever. It is NOT difficult to overcome an obsession with food. Believe in yourself, there is hope. And help. You can have a new life!
Ask us about the Compulsive Overeating Rehab Treatment
in Marbella

, Spain

If you see a green border round the padlock it means your connection is encrypted, private and secure.
---
Local Rehabs has treatment available in English, Russian, German, Dutch, Swedish, Arabic and of course Spanish Speaking.
Private, Secure, Highly Ethical and Most Trusted in the whole of Spain. You can be sure of complete discretion.
---
There are no shared rooms and all of the rooms have en-suite bathrooms.

Some of the rooms are equipped with a kitchen and cooking equipment to support independent living if required.
Nanny rooms are available at an extra cost for overseas visitors normally from the UAE.
We can arrange a team of bodyguards if requested or can provide accommodation for your security team, but due to space limits we need to restrict your on-site private staff accommodation to max 8 people.