Residential Self Harm Treatment in Marbella, Spain
>

>

>

>

Residential Self Harm Hospital Marbella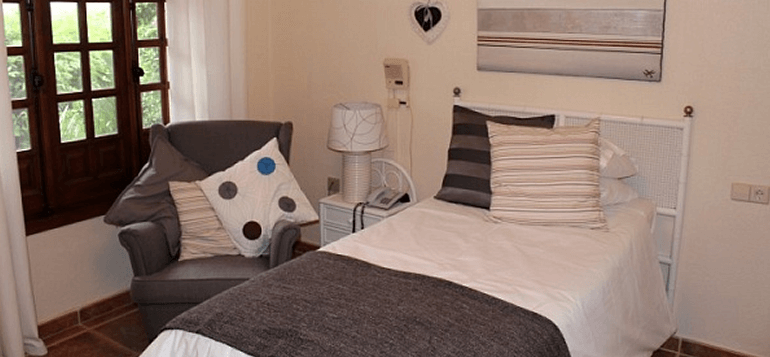 Marbella Self Harm Hospital
€ Call For Prices
Luxury?

Yes

Licensed Hospital?

Yes

Location:

Seaside

Psychiatrist:

Yes
Year Established:

2010

Listing type:

Self Harm

Parking:

Secure

Treat Dual-Disorder?:

Yes
Residential Luxury Self Harm Rehab in Marbella in Spain
Self injury is when someone causes a self inflicted injury upon themselves. The forms of injury are different for everyone yet still a form of self-abuse. Self injury is known as self-abuse, self-injury and self-destruction behavior. There are many ways in which a person can inflict abuse on themselves and it may even be difficult for you to understand at times. Some people will inflict injury directly on their bodies causing harm and producing an injury. As demonstrated in the story above the individual self-inflicted injury by cutting her hands and arms. Others may use the form of alcohol abuse and drug abuse as forms of injury to their body. Individuals often use food as way of self-abuse. They may deprive themselves of food or eat too much. These behaviors can include bingeing, purging and vomiting and this behavior is very self-destructive and yet another form of self abuse. Some individuals verbally abuse themselves from within. They put themselves down and hurt themselves emotionally. It is also important to know that those who self abuse abuse themselves carry tremendous amounts of guilt and shame inside and by carrying these negative emotions around, this is also very self destructive to the individual.

If something you do has a negative impact on your safety and and health, it is self abuse.

If something you do hurts a relationship with someone who is very important to you, it is self abuse.

If something you do stops you from being successful and makes you unable to function on your own, it is self abuse.

If something you do ends up getting you less of what you wanted and needed, this is self abuse.
The issue of self injury is a complex issue and the degree and frequency is different for everyone. Even how someone inflicts abuse on themselves is different. It is said that first episodes of self abuse can begin in adolescence. It typically begins after a major difficult change that has occurred in one's life such as a divorce or as indicated in the story above, a new school. The person may also have a history of violence or forms of abuse.
You may be wondering what could cause a person to hurt themselves. Then again, you may have wondered how an person suffering with Anorexia can starve themselves or how a drug abuser could ruin their life with drug abuse. There are many reasons that could cause a person to inflict pain upon themselves. Many find that self abuse has a very soothing and calming effect. It allows them to cope with feelings and emotions and even escape from them. If individuals feel angry towards themselves, this is a way in which they take out their inside anger out upon themselves. They may tell themselves they are ugly, they are worthless and no good. The negative verbal input one can give to one's self is endless. While there is pain inflicted on the outside, the pain on the inside is eased and even dulled. It is also a way in which some expresses their needs. For instance, the story above cuts could simply mean "I need help" or even more, "I need attention". While the person in this story wasn't trying to clearly kill herself or wanted to die, she did want attention and help. It can be a way to get people to care about them or even drive them away. Some will use self abuse to make others care about them or even to drive them away. Additionally, they may even use self inflicted abuse to escape certain stress and responsibilities. Each person who self abuses is different and there will always be different reasons for why they do. While it's important to know what they are doing, it is even more important to understand why they are doing it. No one ever engages in negative behavior unless they are getting something from it.
Episodes of self abuse may be "triggered" or brought on by specific feelings, thoughts or an event. A person may have been blamed for something that wasn't their fault and this could easily trigger an episode of self abuse. They may feel they are being rejected or even ignored by someone in their life that is important. People who self abuse themselves are so concerned about what others think that they become unable to identify and express their own responses. They get to a point where they need to get their feelings out and relieve them. Perhaps it is the only way they know how to express or relieve these overwhelming emotions that build up inside.
Most people who self injure remember being that way in childhood. As above in the story at the top of this page, the person "remembers" inflicting injury on herself. Family problems in childhood is extremely common in those who self abuse. May feel they were abandoned and often were filled with hurt and pain. In some families there was actual violence in the home. Often children were disciplined harshly and grew up following strict rules. It is these people that later in life may have problems over the years, problems that will also require help and treatment. While I haven't listed them all, there are more. Some of these problems may include:

Substance abuse - alcohol or drug abuse, even prescription medications.
Psychiatric Problems leading to hospitalization.
Eating Disorders - Anorexia and Bulimia Nervosa, Binge Eating or Compulsive Overeating
Depression Mild or severe.
Low self esteem, self -hate and shame.
Relationship Problems with family, friends and even coworkers.
Getting Help To Stop The Self-Abuse
If you are self abusive towards yourself or if your friend or loved one is self abusive, you need to seek help and understanding. Like any problem, if you don't understand the problem, you will never be able to take the right steps and measures to correcting it. People who self abusive need to learn healthy ways to deal with feelings and emotions and any problems they may have in their lives. They require unconditional acceptance and should never be judged. Self abusers and very sensitive and can quickly feel or sense rejection of others. While this may be challenging and difficult at times, it is very important. As an eating disorder does not represent a weakness or flaw neither does self injury, it is a way of problem solving and coping. It is important for everyone to keep in mind at all times. There are many ways to seek support. One idea is surfing the Internet for other websites that explore more deeply into the issue of self injury. I have basically touched the surface, there is so much more to learn and understand. While I have provided some links on this page, you can easily find more links on these sites themselves or by us of a search engine. I have also provided some books on the topic of self abuse. As always books can provide useful and more detailed information, personal experience, recovery and even methods of self-help. (All Books At Amazon About Self Injury) I encourage to borrow a book or purchase one in the near future. Lastly, talking to your family doctor is another way in which you can receive help for self abusive behavior. While many never admit their problem to doctors, it can be an important step to overcoming self-injury and ending it in your life or the life of your loved one. Keep in mind that a doctor is there to help you, not to judge you as a person or is just there to have power and control over you. Lastly and above all, there is hope for you to live a healthy life without self abuse. Like anything, this change comes gradual and takes time and effort on your part. You may not just wake up one day and decide you are going to change however, you may get so fed up of living your life the way that you are, that you are ready and willing to get the help you need to make that change. Please don't give up hope on yourself.
This is what someone who went through self harm had to say
"I was 13 when I entered junior high school. I remember it being a difficult time for me in many ways although I never really knew what my true problem was. I'm still figuring that one out. I know there were often times that I felt no one was there for me. My parents were on the strict side, my mother controlling and I never quite felt that I could really talk to them. I had a hard time adjusting to a new school and never quite felt like I fit in. Everyone always seemed better than me, smarter than me, happier than me and better off than me. I don't know why but at home I secretly starting cutting my hands and arms. I know that in ways it made me feel good and I know it also provided me with attention from others. However, the kind of attention wasn't always the kind of attention that I wanted. Often teachers thought I was going to kill myself but I didn't really want to die and other kids thought I was a nutcase. It seemed some were really concerned about me while others seemed to think I was a lost cause. When people asked me why I was doing it, I really couldn't explain it and I felt stupid and even more like a loser. Now that I am older, I hate it when my mother brings it up, I feel so humiliated over it. Even though I did it, I hate being reminded of it. Being 13 was a year that I would really rather forget yet I often reflect back to it frequently now that I am older."
Ask us about Self Harm Treatment
in Marbella

, Spain

If you see a green border round the padlock it means your connection is encrypted, private and secure.
---
Local Rehabs has treatment available in English, Russian, German, Dutch, Swedish, Arabic and of course Spanish Speaking.
Private, Secure, Highly Ethical and Most Trusted in the whole of Spain. You can be sure of complete discretion.
---
There are no shared rooms and all of the rooms have en-suite bathrooms.

Some of the rooms are equipped with a kitchen and cooking equipment to support independent living if required.
Nanny rooms are available at an extra cost for overseas visitors normally from the UAE.
We can arrange a team of bodyguards if requested or can provide accommodation for your security team, but due to space limits we need to restrict your on-site private staff accommodation to max 8 people.